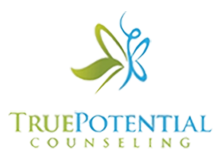 Are You An Effective Communicator In Your Significant Relationships?
Take My Communication Quiz & Find Out (It's free!)
---
Are You Ready To Unlock Your True Potential, Transform Your Relationship & Experience More Harmony & Joy In Your Life?   Great! Let's Get Started.
Andrea and her team are outstanding!!!  Not only has she cultivated a space and an environment that is very balanced and conscientious, but has also built a very capable and compassionate team of therapist who mirror those same attributes. I have known her for several years and I have always been impressed with her insights & ability to connect with others on a very real and personal level.  You will be well taken care of at True Potential Counseling.
Williem B., Chandler, AZ
"I would definitely recommend Andrea and her team of qualified therapists.  Andrea is a natural healer and has the ability to come alongside her clients emotionally in a safe & supportive way.  She is incredibly gifted in helping clients who are suffering from trauma to find healing and recovery & has established a highly qualified & skilled team of therapists who also create a safe environment to grow an heal.  Definitely go to True Potential Counseling if you are ready to transform your life for the better!"
Stacy H., Scottsdale, AZ
"From a patients point of view Andrea is a highly professional and capable counselor with a personable and sensitive approach. I found Andrea was particularly experienced in relationship, trauma and emotional issues. I have trusted her as a professional and the positive results in my life are a clear example to me that she does a wonderful job of what she does."
Gabrielle D. Milan, Italy
"Andrea is an incredibly intuitive & focused therapist. I have had the pleasure of working side by side with Andrea and under her guidance.  She has vision and a gift for healing that is truly exceptional."
Tamira M., Tempe, AZ
"Andrea is one of the most attentive therapists I have ever met. She fully understands what people feel, she gives advice at the right time and she is an excellent guide as you are going through the process of therapeutic change. Her experience, skill and effective use of therapeutic tools makes her not only a highly qualified professional, but also an amazing mentor to the therapists who apprentice under her.  All the members of her team are highly qualified and provide exceptional care to the patients they serve."
Mauro B. Milan, Italy
"Andrea is a competent and talented professional. Her intelligence, intuition, and honesty allow her to connect with her peers and clients on a very personal level. She is consistently successful in guiding clients through therapy to live more productive and happy lives.  Her staff and team of therapists also mirror her expertise, professionalism & authentic warmth."
Stephanie W. Chandler, AZ
"Andrea and her team are very dedicated professionals who use their sensitivity, intuition and intelligence to understand a client and their problems. They are a fantastic group of therapists who live up to their fullest potential in their own lives and are always striving to use the most advanced and effective therapeutic approaches. I value Andrea and the therapeutic work of her team."
Rodrigo M.
"Andrea and her therapeutic team are thoughtful and insightful therapists. I can thoroughly endorse her and her staff's skilled and compassionate style.   They are effective therapist who used evidence based therapeutic approaches that get results."
Eric W. Sydney, Australia