Join the VIP list to get tips to create a life and relationship you love - It's Free
How to Communicate Better in a Marriage
In today's Relationship Lovecast we are going to be talking with John Gray author of Men are from Mars, Women are from Venus about the How to Communicate Better in a Marriage.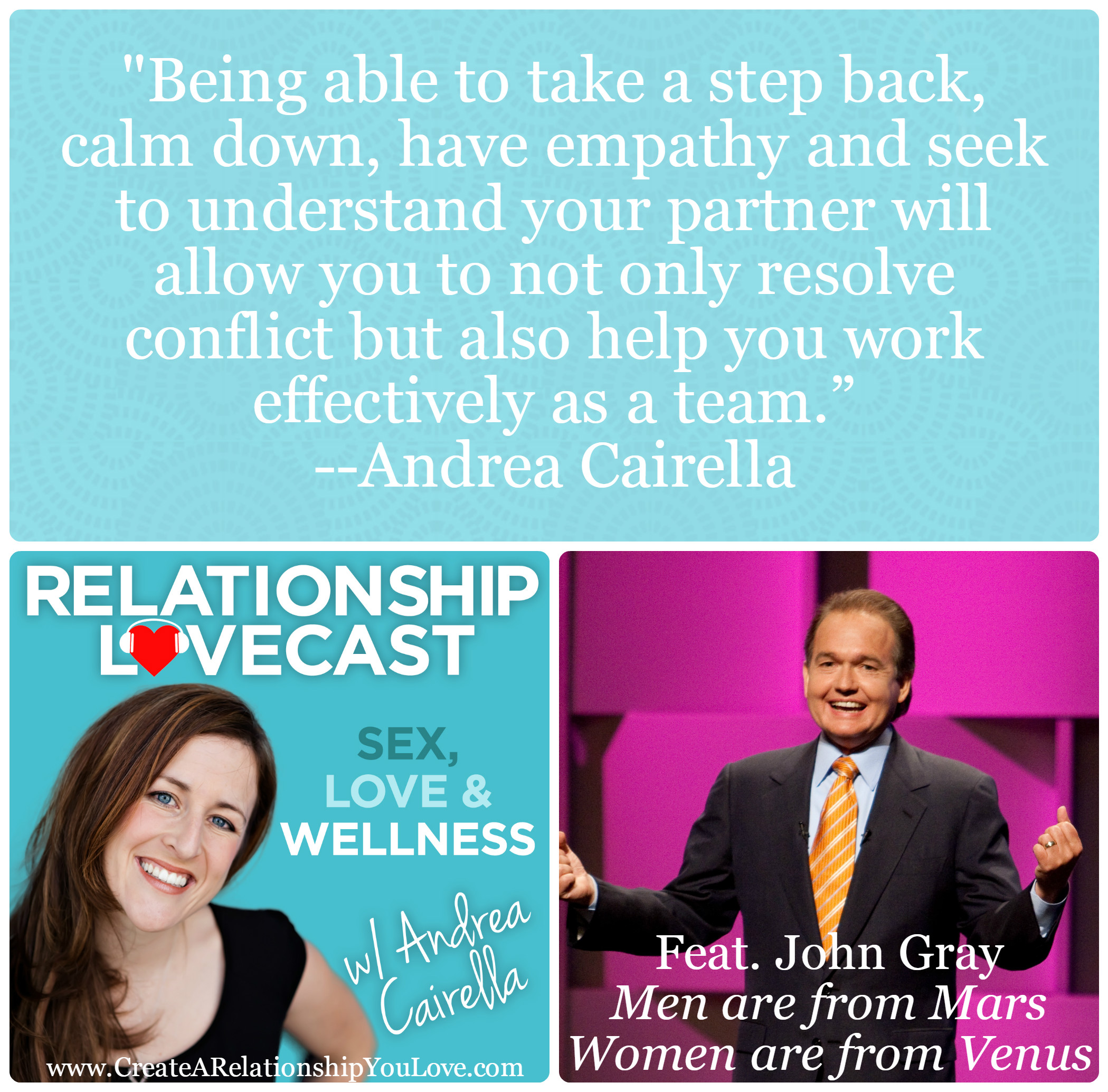 How to Communicate Better in a Marriage
In working with couples for over 10 years, I have seen first hand the themes that come up for men and women when they are struggling in their relationship.  For example, some men may feel like a failure or powerless while a women questions if she matters and feels hurt and sad.  There are other instances where the couple has lost their spark and feel either frustrated, discouraged or rejected.
Knowing the main ways men and women differ in their approach, style, mental processing and coping mechanisms to deal with relationship challenges is key to understanding and accepting your partner as well as knowing how to communicate better and work as a team.
Even understanding the differences that exist between men and women when it comes to sex can be eye opening.  Gaining insight into the biology involved in male and female sexuality, managing stress effectively, and increasing sex drive and emotional connection is the doorway into clarity and possibilities.
Practicing the skills for better communication so that you express to your male or female mate how much you care. So that you can both thrive and flourish in your relationship. Plus you will feel really empowered too!
I've invited John Gray, to talk about how to communicate better with your partner. He focusses in assisting couples in understanding and appreciating their differences in communication. He is the leading internationally recognized expert in the fields of communication and relationships and the author of 17 books including The New York Times #1 Best-Selling Book of the last decade, Men are From Mars, Women are from Venus.
In our IN-DEPTH INTERVIEW with John Gray, we will cover:
The ways men and women communicate differently
The top 3 tips for resolving conflict in a relationship and how to communicate better
How men and women can understand, respect, appreciate and ultimately work better together
What are John Gray's top tips for resolving conflict in a relationship
How a couple maneuver through the sexual challenges effectively.
How a couple can manage stress effectively in order to reduce tension and friction
The secrets to a great relationship
You'll want to check out this interview and it's many interesting takeaways to learn how to communicate better. Have a great rest of your week and as always please SHARE YOUR COMMENTS and successes in the comments section.
Warm regards,
Andrea
Liking this content? Wanting more? Sign up for updates…It's FREE!