Join the VIP list to get tips to create a life and relationship you love - It's Free
How to Improve your Relationship with your Husband
Join me as I talk to David Mead about how to Improve your Relationship in this episode of Relationship Lovecast.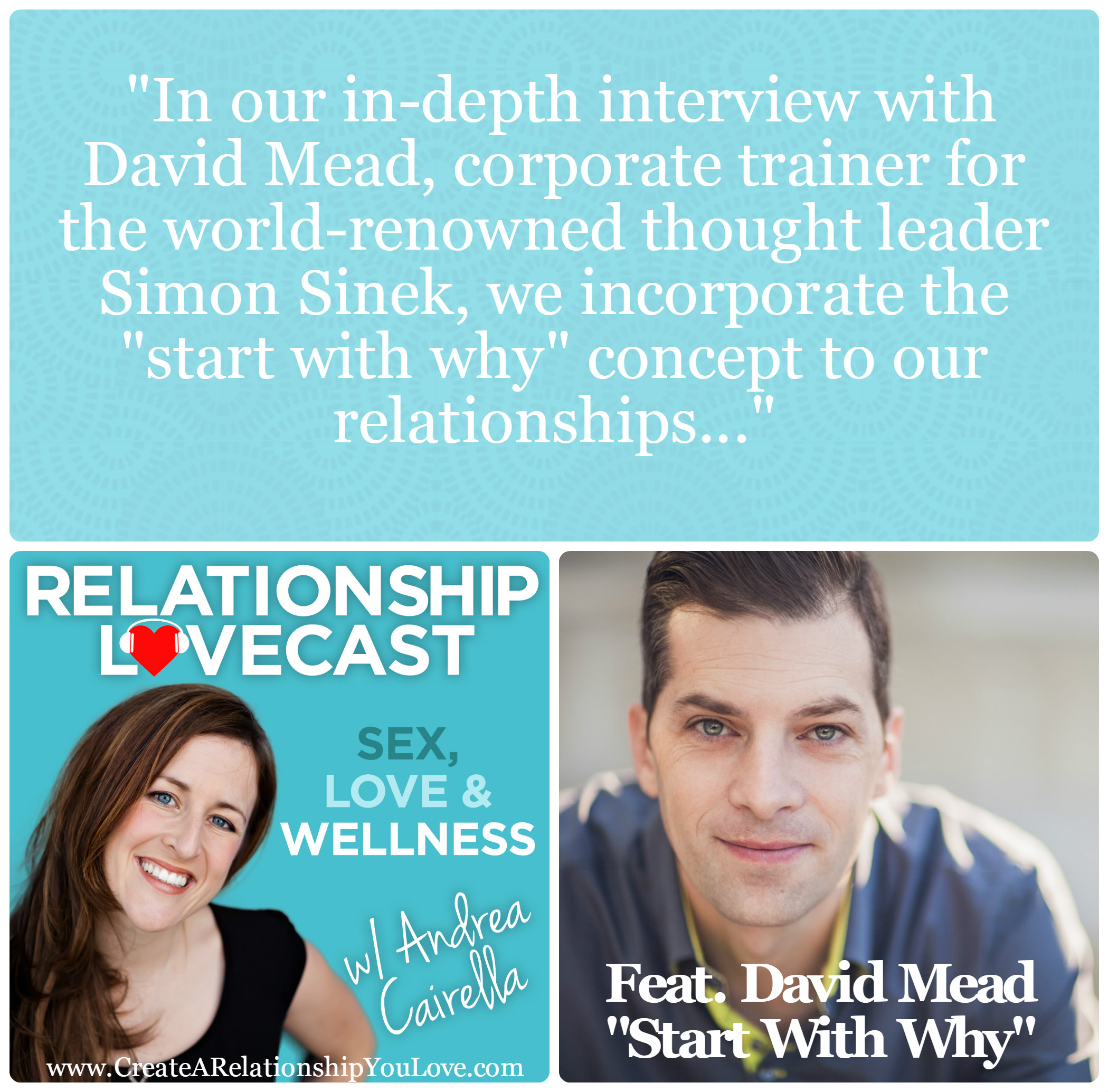 In our in-depth interview with David Mead, corporate trainer for the world-renowed thought leader Simon Sinek, we talk about how we can incorporate the "Start with Why" concept to how to improve your relationship.
How to Improve your Relationship
Several years ago I watched an incredible TedTalk by Simon Sinek who spoke about leadership and business and began the Start with why revolution.
We can adapt and apply the start with why concept to our relationships, even though it is mainly used in business. Be it a relationship with our romantic partner, family members, friends or even with ourselves.
While in our daily busy, stressed and over stimulated routine we can lose sight of our why. And because of this we get lost in all the to-do's and running around patterns of behavior.We get caught up in urgency mode and lose sight of what's important. This can be happening in your work and home environment if you don't take the time to reflect and decide what is our heartfelt why to do what we do.
I invited David Mead, corporate trainer for the world-renowned thought leader Simon Sinek. To help you create more love, harmony, leadership and partnership in your relationship. And show you how to apply the start with why concept in your relationship, communication and decision-making process.
In our IN-DEPTH INTERVIEW with David Mead, we will cover:
First of all, we'll cover the start with why concept and how to apply it in our relationships.
How you, in a committed relationship, can shift your perception in the heat of the moment.
What's leadership really about and how you can apply these same principles into your relationship or home environment.
You'll also learn about the benefits of incorporating the "start with why" concept into your home environment.
In conclusion we'll look into applying these principles to help you deal with conflict or challenges within your relationships.
You'll definitely want to check out this interview in order to get all the interesting takeaways from the interview.  Finally, don't forget to have a great week! Also remember to SHARE YOUR COMMENTS and successes in the comments section.
Warm regards,
Andrea
Liking this content? Wanting more? Sign up for updates…It's FREE!